One Month Vanpool Incentive
A one-time incentive to reimburse your seat cost in a vanpool.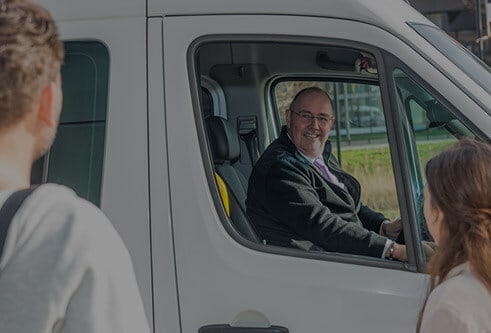 To be eligible to receive a vanpool incentive, a commuter must meet the following requirements:
Work or live or attend school in the Spectrumotion Irvine Spectrum service area.
Have not been sharing a ride (by any mode) for 90 days prior to vanpooling.
Must submit all necessary documents (Vanpool lease statement for the requested month of participation and gas receipts including a cover page totaling the gas cost) within 30 days of the participation month to receive the incentive.
Terminating the vanpool lease/seat agreement before the completion of the full calendar month of the vanpool may make the commuter ineligible for the Spectrumotion vanpool incentive.
Details:
Once you complete the incentive form, a Spectrumotion staff member will contact you to confirm your information and start the reimbursement process.
The vanpool incentive month is defined as a full calendar month of participation within 90 days of joining/starting a vanpool.
The incentive will take the form of a check reimbursement for the value of the individual rider's lease and gas costs incurred for the incentive month.
The reimbursement check will be produced within 3 weeks of receiving all documentation required.
Spectrumotion's Emergency Ride Home Program is available to all Irvine Spectrum vanpoolers.
If you are interested in more information about starting or joining an Irvine Spectrum vanpool or have questions about getting one month of free vanpooling, call our office at 949-727-4273 or email rideshare@spectrumotion.com.
What is a Vanpool?
Generally, a vanpool is a group of 5 or more commuters who commute to work in a leased or company-owned van. It is considered one of the most cost-effective for commutes of 15 miles or more each way. Spend your time reading, checking emails, or just relaxing.
Van passengers can be from various companies or all employed by the same company. The pre-determined fare covers all the costs of the van including the cost of the vehicle, gas, tolls (if any), insurance, maintenance, and roadside assistance.  Typically, leasing companies that specialize in vanpooling provide the vans. The group can cancel its lease without penalty with 30 days notice. Vanpoolers meet and board their van at a pre-designated time and location.
Finding a Vanpool
Are you interested in joining a vanpool to work in the Irvine Spectrum area?  Or do you have a group of fellow commuters who are interested in starting a new vanpool?
If not, look on our Commute Tools page for more options.
Or call 949-727-4273 or email rideshare@spectrumotion.com and we'll see if there's an existing van that you can join, or walk you through setting up a brand-new van.
Benefits
The benefits of vanpooling mirror those of most other rideshare modes. Vanpooling saves time and money over driving alone, for instance. Vans can use the carpool lanes, and the group shares all the costs associated with commuting. Some commuters actually eliminate the need for a second family vehicle by vanpooling. For commuters who volunteer to drive, the vehicle is available for their personal use evenings and weekends.
Interested in Irvine Spectrum area commute options for you, your company or tenants? Fill out the form below. We're happy to help save you time and money!

15215 Barranca Parkway,
Suite 200
Irvine, CA 92618